We always see celebrities looking perfectly polished. Their hair and makeup is done up, outfit is on point, their bodies without an ounce of fat on them. They curate their social media pages to include only the best of the best pics, which leaves the rest of us dreaming of looking that way or living that lavish lifestyle.
Well, self-isolation has brought us all down a notch. Celebrities may still have it better, being trapped inside with mini-bars, home gym, and olympic sized pools, there's no doubt. But they're just like the rest of us and want to take this time to be comfortable and cozy while stuck at home.
Some celebs have taken to social media to show off their natural looks, without makeup and wearing sweat pants around the house, and it's relatable!
my skin these days ? @kylieskin pic.twitter.com/n6xqoY4fRE

— Kylie Jenner (@KylieJenner) April 26, 2020
Kylie Jenner
Kylie Jenner posted a boomerang of her without make up on and let's be honest – she's unrecognizable.
The make-up mogul captioned the clip pointing out how beautiful her skin looked now that she's au-natural at home.
Gwyneth Paltrow
Gwyneth is working from home like many of us are! Her brand, Goop, covers almost every topic you could think of – health, kitchen, travel, and much more.
Luckily, she's able to continue running her business from her living room, and hang out with her kids!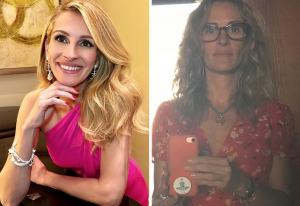 Julia Roberts
We're used to seeing America's sweetheart all dolled up and looking glam. But she's leaning into the relaxing time at home, and isn't worried about wearing make up or finding the best lighting.
She looks amazing all the same!
The Parks & Rec Cast
Fans rejoice: the core cast got back together to create a special episode that they've all recorded from their homes! Amy Poehler made the announcement looking cozy and make-up free.
Their episode is brought to us by their efforts to raise money for Feeding America.