Due to a recently surfaced video that was taken back in February, fans have been expressing their outrage at the young model, sparking rumors that she may drop out of the VS show.
this is y'all woke palestine queen? Gigi out here mocking Asian people. i would say she's cancelled but she never started. rat @GiGiHadid pic.twitter.com/b6wj5k1sXE

— . (@hvrrystime) February 5, 2017
This video shows hadid in very offensive light
She jokingly mocked the eyes of a Buddha. Yep. Pretty insensitive.
I hate how these idiots are defending her like she's perfect and she can do no wrong

— ????? ???????? (@moooonique__) February 6, 2017
Since the VS show will be in Shanghai in December 2017, many people are posting on Hadid's social media accounts telling her not to come to China.
Users from across the globe have been expressing their disgust at the blatantly racist gesture.
All of her recent posts on social media have been loaded with angry comments.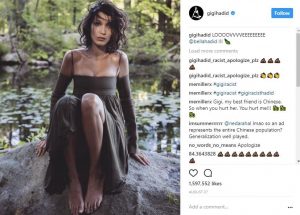 Many are posting snake symbols, middle finger emojis, and thumbs-down symbols.
A few people have voiced their support of the model.
the problem is she tried to copy the Asian face thing while mocking an entire race for her own humour. ?

— •H• (@sultrykarla) February 5, 2017