Billie Eilish just stunned the crowd at the kick-off concert for her 'Where Do We Go?' world tour, by stripping off her baggy shirt to just her bra, in a strong message about body image and criticism.
The Grammy winner started the tour off in Miami and the singer who's known for wearing loose-fitting clothing in an effort to keep people from sexualizing her body, just made a HUGE statement by playing a video of herself shedding the baggy shirt to the packed house.
In the video, which played right before she launched into her song, "All The Good Girls Go To Hell," featured Billie speaking as a voice-over to images of her slowly shedding her layers of clothing.
See The Stunning Video!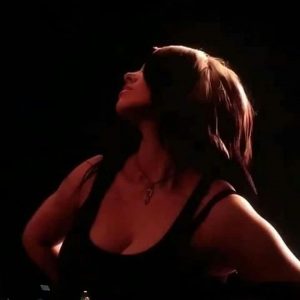 "You have opinions, about my opinions, about my music, about my clothes, about my body. Some people hate what I wear, some people praise it, some people use it to shame others, some people use it to shame me, but I feel you watching, always," she says in the video.
At the pivotal moment, she is down to just a black bra…and the crowd goes nuts, meeting it with cheers and applause! As she finishes getting undressed, the singer lowers herself into a pool of water where she completely disappears.
Billie Eilish Is Beautiful In Her Powerful Message On Body Image
Billie continues, "The body I was born with, is it not what you wanted? If I wear what is comfortable, I am not a woman. If I shed the layers, I'm a slut. Though you've never seen my body, you still judge it and judge me for it. Why? We make assumptions about people based on their size. We decide who they are. We decide what they're worth. If I wear more. If I wear less. Who decides what that makes me? What that means? Is my value-based only on your perception? Or is your opinion of me not my responsibility?"
Fans of the superstar praised her for the powerful message, which one person saying, "the strongest, most empowering woman I know. billie eilish."