6. Swimmer's wardrobe malfunction.
I forgive this one because no swimsuit maker would harm an athlete by putting a hole exactly in the crack of his ass. *intended pun*. However, these failures must be addressed.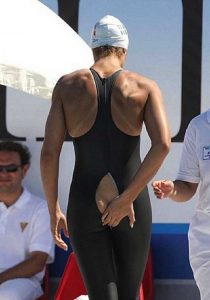 7. Sinful optical illusion?
Let's give a round of applause for this trap. This time, I think this is what I would call "athletic sabotage demonizing the locker room." Poor ladies, they had to use them.