5. What risks do we take when we go to the beach with no swimming signs?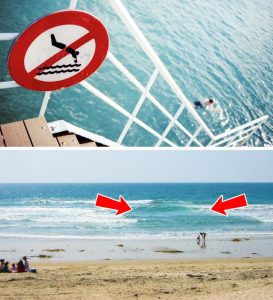 Very often people don't pay attention to the No Swimming and No Diving signs when they see a sunny beach and other people having fun. If this panel is located near a river or lake, there is a high chance that dangerous organisms that cause intestinal, auditory and eye infections or parasites are present in sewers or other systems. In addition, some plants often release decomposing products that can cause allergies and diseases in certain technical areas, and the water "flowering" is often saturated with biological discharges.
No Swimming signs at the beach often save people's lives because they are placed there when there are ripping currents that can pull a person to the sea. These currents occur in different parts of the world—Phuket, the Azov Sea, and the Gulf of Mexico. People should avoid swimming in narrow straits and between islands. If you are in a dangerous area, do not swim to the shore, but parallel. This will help you get out of the current by letting it pull you and you will eventually be able to get back to shore. Also, never ignore a ban on diving because the bottom of these places can be full of invisible stones, iron rods, and sunken objects.

6. Where is it best to learn to swim: in the ocean or in a pool?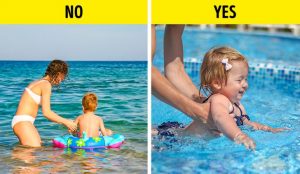 Many people learn to swim spontaneously when they go to a river or ocean. You can try if the water is calm and clear, if the person you are with is a good swimmer, and if you remember to put on a lifejacket. Parents usually teach their children by standing in front of them and letting their child swim to them for short distances.
Although it is much easier to float in dense sea water, swimming lessons are often disturbed by the blinding sun, waves, currents and sometimes many sea creatures. Professionals recommend spending the beginners course in a pool with a coach. Many people learn a lot from their early lessons and gain important skills that they will use throughout their lives.